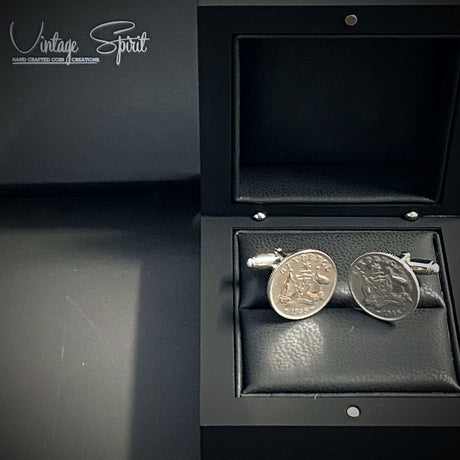 AUSTRALIAN SIXPENCE CUFFLINKS
: Cufflinks
Commemorate a special occasion with a pair of high quality, handcrafted, sterling silver coin cufflinks.
Vintage Spirit's unique and stylish sterling silver cufflinks are sure to be a winner as a personalised gift.
Vintage Spirit cufflinks use sterling silver backings and are soldered in place. Presented in a branded Vintage Spirit box.
If you would like 2 different dates just drop us a line and we will be sure to accommodate
Most dates are available from 1946-1963 please choose from the drop-down menu
Earlier years are available, please check availability and price with us
Vintage Spirit pre-decimal silver coins are genuine coins. Coins are cleaned to remove all dirt and grease, they are then highly polished and finally buffed
Free shipping within Australia