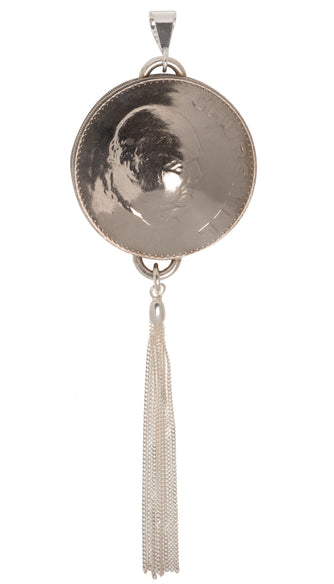 1965 WINSTON CHURCHILL PENDANT + TASSEL
: Pendant
Vintage Spirit pendants are all handmade using genuine coins. This unique Pendant is a gift or keepsake to commemorate that particular year. 
The 1965 Great British Crown was produced to celebrate the life and times of Winston Churchill. The coin was issued March 16th, 1965, only seven weeks following his death.
Coins are cleaned, shaped and soldered together with a sterling silver jump ring at the top. A sterling silver bail is then attached making way for your choice of chains are available here.
The Pendant will have the front and back of the chosen coin. If you would like Mr. Churchill on both sides, please let us know upon checkout
The sterling silver flat tassel features a bright, smooth end cap and eight 50mm long strands of 1.1mm flat curb chain. Total length 60mm
Free shipping within Australia
| | |
| --- | --- |
| Weight | 60 grams |
| Diameter | 38mm |
| Length | 110mm |
| Bail width | 6mm  |